---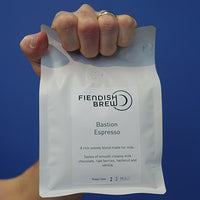 Bastion Espresso is perfect for those who enjoy a smooth and flavourful coffee without any harsh bitterness. Our coffee beans are sourced from the finest coffee-growing regions around the world and roasted to perfection to bring out their rich flavours.
With a medium roast profile, our easy drinking coffee bean has a well-balanced taste with a subtle hint of chocolate, hazelnut, vanilla and berries, and a smooth finish that leaves you wanting more. It's perfect for any time of the day, whether you're starting your morning or need an afternoon pick-me-up.
Not only does our easy drinking coffee bean taste great as an espresso, but it's also a tasty filter coffee.  From French Press to paper filter, you'll get a delicious cup of coffee every time.
Our easy drinking coffee bean comes in a resealable bag to keep the beans fresh and vibrant for longer. And, it's available in both whole bean and pre-ground options, as well as a variety of sizes, so you can choose the one that suits your brewing needs.
Experience the rich flavours and smooth finish of Bastion Espresso today and make it your go-to coffee for every occasion.